North Molton Church
All Saints Church
The Grade 1 listed All Saints Church, built in the early 15th Century, is located to the north of the village square. The 3-stage tower has a peel of six bells and on the south face the carving of the Virgin and Child survived the Reformation. The interior of the church was remodelled during Victorian times and of interest are the grand wagon roofs , the Jacobean panelling in the chancel, the Bampfylde Chapel with its marble monument and an 18th Century box pew, the pulpit with sounding board, and 16th Century former tower clock.
The Church is normally open during daylight hours. Services are held on most Sundays and Wednesday mornings. The pattern of services and details of the Ministry Team may be found on the Edgemoor Group website.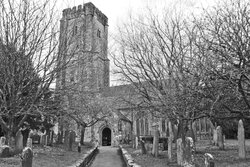 Methodist Chapel
There has been a Methodist Church in North Molton for many years and, like most Methodist Churches, it has practised much of its faith by its work in the local community, especially with those who are in particular need of support.
In addition, it has for many years run two of the biggest youth clubs in North Devon, one celebrating its fiftieth anniversary recently.
It also offers a community coffee morning on a Tuesday, a "Little Nippers" group for the under twos and their parents on Wednesday mornings, and a Soup and Roll lunch along with a warm space on a Friday. It is also home to a print and art club on Wednesday mornings.
There is a service of worship on a Sunday, some services are traditional in style and others are less formal and based around tea/coffee and other refreshments with a little singing, some quiet time and a lot of friendly chat. Everyone is welcome to an event and will always be warmly received.
For further information please contact Tina Ley, Senior Steward on 07900 552936.