About North Molton Village
North Molton sits on the south-western edge of Exmoor National Park, about 3 miles from the market town of South Molton and the A361 link road. Set in glorious countryside, the village and outlying hamlets and farms are currently home to around thirteen hundred residents. It is a happy, thriving community with a primary school, two churches, two pubs, a garage, a hairdressers and a variety of home-based businesses. There are two well-supported village halls and a sports club boasting football and cricket pitches and an indoor sports hall and pavilion.
The spirit of the community is captured in the book North Molton a celebration of the people and history of North Molton published by the North Molton History Society. The village was originally founded on the very successful wool trade, followed by a brief spell as a mining village. As the local saying goes "When North Molton was a thriving town South Molton was still a fuzzy down".
North Devon Council has an excellent mapping facility on their website, the (enlargeable) image shown here identifies the Parish of North Molton within North Devon, click the link for the interactive map provided by ND Council.
Interactive Map of North Devon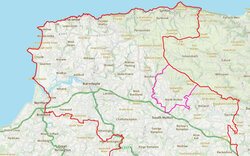 Interactive Map of North Devon
Historical Timeline
2021

Population 1,159.

2011

Population 1,094.

2001

Population 1,047.

1924

The Victory Hall built to commemorate the fallen of the village in World War I.

1901

Population 1,080.

1891

Current Methodist chapel constructed.

1841

Population 2,121.

1837

First Methodist chapel constructed.

1800s

Mines at North Radworthy producing copper and some gold; Bamfylde Mine opened on the River Mole, producing iron, copper and manganese (closed 1877), and Florence Mine was worked for iron, copper and lead until 19885, having a rail link to South Molton from 1874.

1801

Population 1,541

1710

The Old Corn Mill was constructed by the River Mole.

1610

Population 660.

1600

Court Hall built to the immediate east of the church by Amyas Bamfylde (now partially demolished).

1550

Edmund Parker granted the office of bailiff of the manor, and built Court House to the west of the Church in 1553.

1540

Population 603.

1500s

Mines established near Heasley Mill.

1470s

All Saints Church built by the village square.

1270

Roger da Zoche granted a licence to hold a weekly market in the manor.

1086

Doomsday Survey showed a community of 120 households and about 570 people.

Bronze Age

Tracks, barrows and stone circles constructed on the moors.

Neolithic

Evidence of flints used by early inhabitants.